Villa in heart of Korčula Town
Visit Luxury Villa Emotha with a heated pool near the Korčula Old Town on Korčula island! This island of rich cultural heritage, excellent gastronomy, and beautiful sandy beaches is a perfect choice for your relaxing holiday!
The elegant villa is located within the conservation area of the town of Korčula and as such represents a rarity.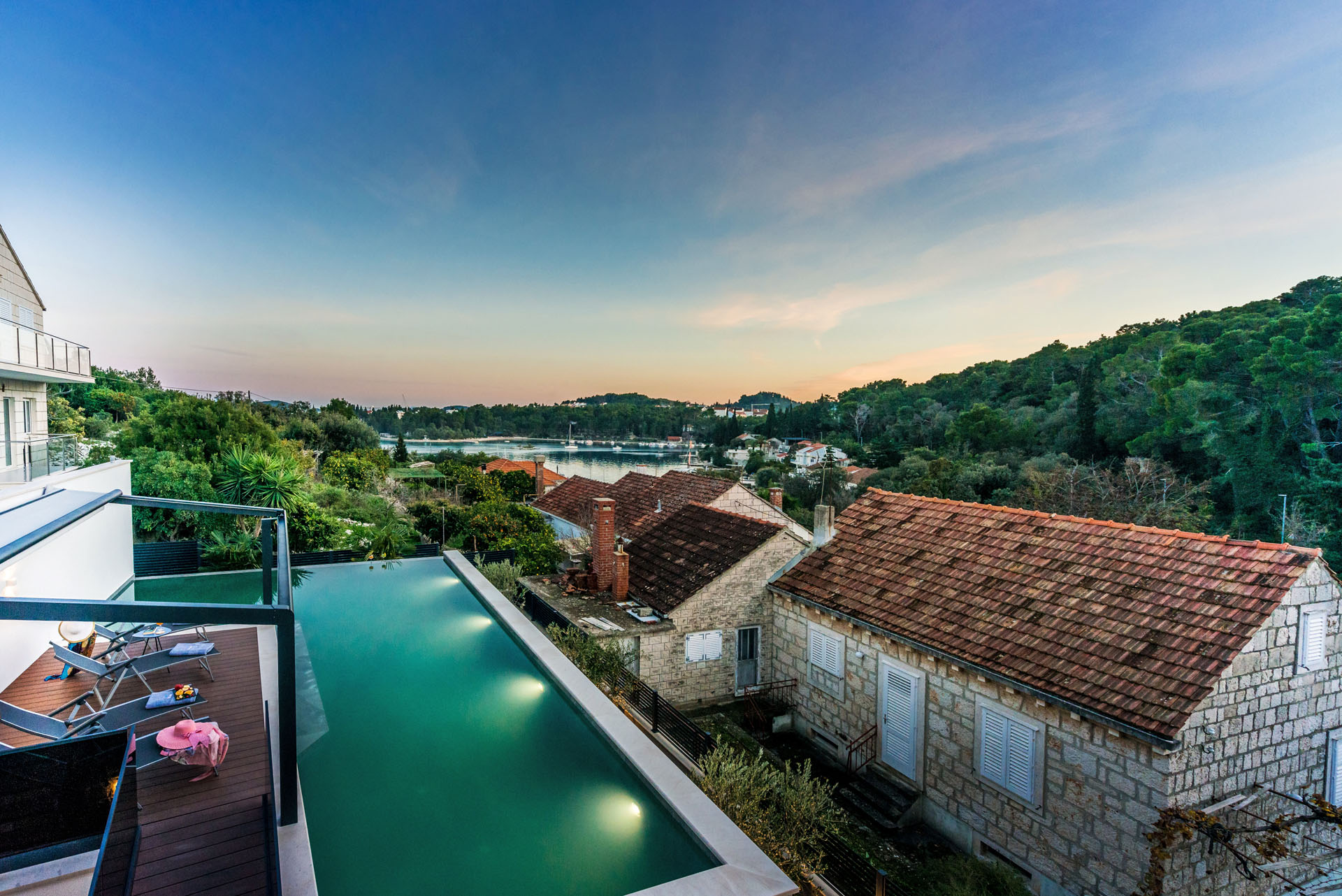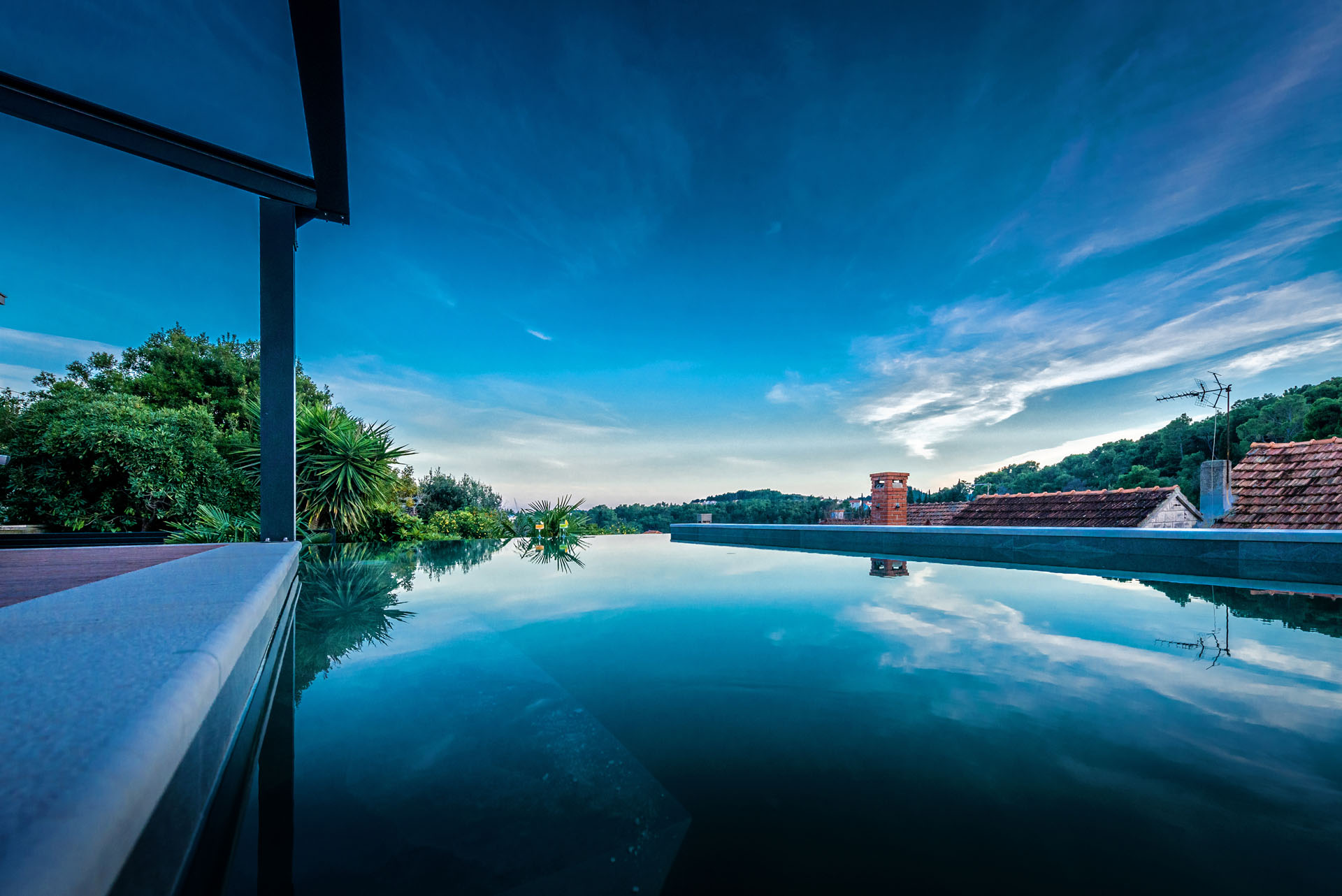 Additional Apartment for 2 staff members is included
Elegant four-bedroom villa for 8 persons
This two-storey modern villa consists of two parts connected by a bridge. The main part of the mansion has 3 floors with residential facilities. The annex building connects relaxation and recreation facilities. Book modern Villa Emotha, which exudes surreal elegance and luxury, and get to know scenic Korčula island!
Dormitory
The dormitory consists of 4 luxuriously furnished bedrooms and bathrooms. The master bedroom on the second floor comes with a walk-in wardrobe, bathroom with Jacuzzi, and a balcony offering a stunning sea view.
Activities & Spa
In the basement of the annex part, sports lovers can practice fitness and use the sauna. Later on, you can enjoy the infinity pool with a sun deck with mesmerizing sea view, surrounded by the lush Mediterranean plants. An entertainment room with a billiard in the basement is great for a family gathering.
Dining & Lounge
The first floor features a fully equipped kitchen connected to the living room that opens up to a terrace with a pool overlooking the sea. A covered dining area with a kitchen and barbecue, reminding of Dalmatian konoba will offer you unforgettable moments.
Villa comes with beautiful sea views and views of the verdant landscape. Villa Emotha is placed in a residential area near the city forest park Hober, just 100 m from the beach.
In its construction were used the highest quality materials, the newest equipment, modern installation systems for heating, cooling, and pool technology. It is an example of how modern architecture can perfectly blend with the old traditional way of building.
Features
General
Air Conditioning
Fitness equipment
Private Swimming Pool
Sea View
Terrace
Free Parking
Soundproofing
Heated Pool
Sauna
Barbecue
Indoor Jacuzzi
Pets are allowed
Bed & Bath
King-size bed
En-suite Bathroom
Flat-screen TV
Free toiletries
Rain shower
Hot Tub
Activities
Fitness Centre
Cycling
Diving
Billiard
Spa
Fishing on request
Kayaking on request
Windsurfing on request
Explore Korčula island - home of Marco Polo
Sightseeing
Welcome to Korcula island – home of Marco Polo, an island of historic monuments, cultural heritage, excellent gastronomy, unique beaches, and hidden bays! Korcula island is a part of the Central Dalmatian archipelago...
Explore
Activities
Korcula is a real heaven for sports and adrenaline lovers. Those who adore perfect intact landscapes, hidden coves, sandy and pebble beaches with crystal clear waters and clear air, really need to visit this paradise on...
Explore
Gastronomy
Korcula boasts a wide selection of restaurants and konobas – traditional Dalmatian taverns. The superb food and a wide selection of high-quality wines raised the standards of Croatian gastronomy. With years of tourism ex...
Explore
We use cookies on our website to give you the most relevant experience by remembering your preferences and repeat visits. By clicking "Accept", you consent to the use of ALL the cookies.